Welcome, guest!
What's on TV in Europe?
---
George Washington


16:25



Journal d'un dégonflé


17:15



Неправильные копы


17:25



---
[Full TV Announce] [TV Programs]
Added Movies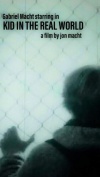 Kid in the Real World
Year: 1983
Country:
USA
Genre: Short / Family
Review: Gabriel Macht plays the role of a boy enjoying his freedom and playful imagination at a lifeguard station at the beach until his life is in danger when a vagrant drifter sees him alone and chases after him. The boy makes it safely home into the arms of his mother. Jon Macht has worked in all aspects of movie and television production for the last 35+ years and was involved in the Star Trek television series for Paramount Pictures, Babylon 5 series at Warner Brothers and is writing, directing and producing in Hollywood today. Today, you can see Gabriel Macht, starring as Harvey Specter in SUITS on USA Network. - IMDb

Paradize 89
Year: 2018
Country:
Latvia
Genre: Family
Review: Arriving at her cousins home in a late eighties Latvia rattled by political turmoil and faced with divorce in her own family, nine year old Paula learns that no matter what the future of her country might bring, family values are of greater significance than anything. - IMDb

A Menina e o Estuprador
Year: 1983
Country:
Brazil
Genre: Drama
Review: In São Paulo, Vanessa who is normally spoiled rotten, is neglected and rejected by her mother, practically raised alone by Pedro, her butler and driver and the maid, Dalva who are a married couple. She has disturbing daydreams and sexual fantasies, but doesn't let Arlindo, a teenager that flirts with her get close to her. Her best friend, Denise is a promiscuous girl that has intercourse with different men. When she discloses her problem to Denise, Denise gives her the address of her psychotherapist Dr. Artur. The unethical shrink pushes Vanessa to the edge, bringing memories of a severe trauma of her childhood. Then the disturbed Dr. Artur induces the girls to commit suicide. - IMDb

Lobster Dinner
Year: 2018
Country:
Italy
USA
Genre: Short / Drama / Family
Review: Left home alone one evening, a 12-year-old boy steals some live lobsters from his parents fridge. He brings these, as a gift, to the single mother of his best friend, only to claim in his house a place that goes beyond that of a dinner seat. - IMDb

Glass
Year: 2019
Country:
USA
Genre: Drama / Mystery / Sci-Fi / Thriller
Review: Security guard David Dunn uses his supernatural abilities to track Kevin Wendell Crumb, a disturbed man who has twenty-four personalities. - IMDb

Anywhere, U.S.A.
Year: 2017
Country:
USA
Genre: Short / Drama
Review: Anywhere, U.S.A. is a disturbing film for disturbing times, daring to ask the uncomfortable question, "How on earth did we get here?" - IMDb

Yao
Year: 2018
Country:
France
Senegal
Genre: Comedy / Drama
Review: From his village in northern Senegal, Yao is a 13-year-old boy ready to do anything to meet his hero: Seydou Tall, a famous French actor. Invited to Dakar to promote his new book, the latter goes to his country of origin for the first time. To fulfill his dream, the young Yao organizes his fugue and brave 387 kilometers alone to the capital. Touched by this child, the actor decides to flee his obligations and to accompany him home. But on the dusty and uncertain roads of Senegal, Seydou understands that while rolling towards the village of the child, it also rolls towards its roots. - IMDb

Did Michael Knight End the Cold War?
Year: 2009
Country:
Germany
Czech Republic
Genre: Short / Comedy
Review: Czechoslovakia, 1989: for 9-year-old Jachim, there is nothing greater than the TV series "Knight Rider", which he can receive clandestinely on an Austrian signal. Together with his little brother, he re-enacts the most daring stunts from the series and wreaks a lot of havoc in their high-rise neighborhood. Surprisingly, Jachym's father has little understanding for his passion for Michael Knight. But when the demonstrations begin in the fall of 1989, Jachym and Michael Knight hatch a plan to prove themselves to everyone. - IMDb

Riviera
Year: 2014
Country:
USA
Genre: Short / Comedy / Romance
Review: Matthew, a relationship-challenged young entrepreneur, is set up on a blind date by his long time friend, Joe. After begrudgingly agreeing to the arrangement, Matt soon discovers that his date, Mkaela, might not be the match made in heaven that he was hoping for. - IMDb

Popsy
Year: 2014
Country:
USA
Genre: Short / Horror / Thriller
Review: A serial kidnapper gets more than he bargained for when he attempts to kidnap a mysterious child. - IMDb
Poll. 'How do you like the new view of our site?'
---
It is great!
954
(52%)
Not bad
397
(21%)
So so
172
(9%)
I am not impressed
147
(8%)
It is terrible
177
(10%)
Who Has a Birthday Today?
---