Welcome, guest!
New Video
---
Trailer

Pulce non c'è

Trailer

Batkid Begins: The Wish Heard Around the World

Trailer

Difret
What's on TV in Europe?
---

Bandits, bandits


05:25




Ciné+ club
---
[Full TV Announce] [TV Programs]
Added Movies

Penny Dreadful (TV series 2014–)
Year: 2014
Country:
USA
Ireland
UK
Genre: Drama / Horror
Review: Explorer Sir Malcolm Murray, American gunslinger Ethan Chandler and medium Vanessa Ives unite to combat supernatural threats in Victorian London. - IMDb

Grizzly Mountain
Year: 1997
Country:
USA
Genre: Adventure / Family / Fantasy
Review: Present-day Portland suburbs kids Dylan and Nicole go on the camping trip with their family, and when they enter a mysterious cave in the mountains, they're transported back in time to 1870, where they meet mountain man Jeremiah. - IMDb

Drink
Year: 2014
Country:
USA
Genre: Short / Drama / Sci-Fi
Review: DRINK is a sci-fi cautionary tale that follows Alice and her two sons, Clint and Billy, as they flee their home in the middle of the night. They arrive at an old desert motel, and it doesn't take long before Alice realizes she has a strange connection to this place. A tragedy of the past begins to reveal secret desires that could send Alice down a path of freedom or insanity. - IMDb

Any Day
Year: 2015
Country:
USA
Genre: Drama / Romance / Thriller
Review: An ex-fighter finds redemption from his troubled past. - IMDb

Kill List
Year: 2011
Country:
UK
Genre: Crime / Horror / Thriller
Review: Nearly a year after a botched job, a hitman takes a new assignment with the promise of a big payoff for three killings. What starts off as an easy task soon unravels, sending the killer into the heart of darkness. - IMDb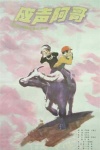 Yin sheng a ge
Year: 1982
Country:
China
Genre: Family
Review: A six-year old boy from Beijing improves his social behavior when he visits with his mother working in the Jingpo mountains. - IMDb

Feng huo shao nian
Year: 1975
Country:
China
Genre: Drama
Review: Orphan Xiao Song is wounded in the Japanese attack that kills his parents and after recovering he joins the army and becomes an excellent soldier. - IMDb

The Gate of Oaks
Year: 2014
Country:
USA
Genre: Short / Horror
Review: The Gate Of Oaks is the story of a night in the lives of young James and Avon Cursus, two brothers living in their family's ancestral home set deep inside a dark and ancient forrest. The boys live very average lives, until a dark and stormy night when they are awoken by their grandfather and taken deep into the dark woods. Where they discover the truth about the families dark past and their curse; An ancient gate that the family has guarded for over 200 years. What lies beyond the gate will change the Cursus' boys lives forever. - IMDb
Who Has a Birthday Today?
---