Welcome, guest!
What's on TV in Europe?
---

Le chien fantôme


12:55




RTL 9


Hellboy


14:10




Ciné+ frisson
---
[Full TV Announce] [TV Programs]
Added Movies

Romeo and Juliet
Year: 2013
Country:
UK
Italy
Switzerland
Genre: Drama / Romance
Review: Romeo and Juliet secretly wed despite the sworn contempt their families hold for each another. It is not long, however, before a chain of fateful events changes the lives of both families forever. - IMDb

Nicky's Family
Year: 2011
Country:
Slovakia
Czech Republic
UK
USA
Israel
Cambodia
Genre: Documentary / Biography / Drama / History
Review: Nicholas Winton, an Englishman (today 102 years old) organized the rescue of 669 Czech and Slovak children just before the outbreak of World War II. Winton, now 102 years old, did not speak about these events with anyone for more than half a century. His exploits would have probably been forgotten if his wife, fifty years later, hadn't found a suitcase in the attic, full of documents and transport plans. Today the story of this rescue is known all over the world. He was knighted by the Queen Elisabeth II and the U.S. House of Representatives passed H.R. 583 recognizing his remarkable deed. Winton's story is a very emotional one, and thousands of children in many countries have decided to follow in his footsteps and do something important. They think up various charity projects and even help in the saving of lives of undernourished and sick children in Cambodia and Africa. 120,000 children in the Czech Republic signed a petition to award Nicholas Winton the Nobel Prize for Peace. Dozens of Winton's "children" have been found and to this day his family has grown to almost 6,000 people, many of whom have gone on to achieve great things themselves. It is incredible that all these people live due to the heroic deeds of one man - Sir Nicholas Winton. - IMDb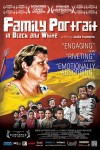 Family Portrait in Black and White
Year: 2011
Country:
Ukraine
Canada
Genre: Documentary
Review: Olga Nenya is raising sixteen black children in Ukraine where 99.9% of the population is white and where race DOES matter. The reality of growing up as a bi-racial child in Eastern Europe - a rare and truly visible minority - is not for the faint of heart. Forced to constantly defend themselves from racist neighbors and skinheads, these children have to be on guard against the world that surrounds them. No one is related by blood in this family, but everyone is connected by the color of their skin and by the woman who chose to be their mother. Ukrainians don't lend Olga a hand, but Westerners do: a British charity bought them a house and the kids spend their summers with host families in Europe. When a European couple offers to adopt one of the kids, Olga refuses despite being aware of what awaits a black Ukrainian beyond the protective shield of her family. This film is a multi-dimensional portrait of one family, the country they live in, and the bigger world they are a part of. - IMDb

Street Kids United
Year: 2011
Genre: Documentary / Sport
Review: A group of homeless children in Durban are chosen to represent South Africa in the first ever Street Child World Cup. For them, football might be a way to a brighter future. To much of the outside world they are a nuisance, best hidden or ignored, but they aspire to much more. They want to be a team. - IMDb
Baghdad Messi
Year: 2012
Country:
United Arab Emirates
Belgium
Iraq
Genre: Short / Drama / Sport / War
Review: Iraq, 2009. Little Hamoudi (10) is totally obsessed with football. Just as the rest of the world, he and his friends are eagerly looking forward to the Champions League finale FC Barcelona-Manchester United. The long awaited clash between Messi and Ronaldo. But then Hamoudi's television breaks down... - IMDb

Kronjuvelerna
Year: 2011
Country:
Sweden
Genre: Drama
Review: Fragancia is arrested for the attempted murder of Richard Persson, the son of a powerful factory owner. During the interrogation her amazing and remarkable life story is revealed. We follow her through her impoverished childhood, her adolescence where she meets the great love of her life, ice hockey star Petterson-Jonsson and the lead up to the fatal night where the story begins. - IMDb

Zhena ofitsera (TV Series)
Year: 2013
Country:
Russia
Genre: Drama / Romance
Roza
Year: 2012
Country:
Russia
Genre: Drama

Tierney Gearon: The Mother Project
Year: 2006
Country:
USA
Genre: Documentary
Review: In 2002, American photographer Tierney Gearon (1963- ), fresh from the disconcerting success of her 2001 exhibit at London's Saatchi Gallery, goes to upstate New York to begin a project photographing her mother. Over the next few years, two filmmakers record Gearon's visits, accompanied by her two young children and later a baby. Gearon's mother can behave erratically, and the presence of mother, daughter, and children brings up Gearon's own feelings about her childhood. Her children are philosophical about being photographed and on exhibition. Portraits of family, discovery, and healing may emerge. - IMDb
Who Has a Birthday Today?
---