Welcome, guest!
Added Movies
La femme du cosmonaute
Year: 1997
Country:
France
Genre: Comedy / Drama
Review: Anna and her husband Jean-Paul have to face a long and difficult separation since Jean-Paul is a spationaut. Thanks to a video device they can see each other and communicate... But definitely not for the best! - IMDb
O
Year: 2007
Country:
Belgium
Genre: Documentary
Review: It is a creative documentary about a research for water in a society built on lines and line structures. Two people are standing in the middle of a desert, they are looking for water. Time is getting scarce. Speed. In what way can lines play a role in increasing speed?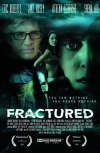 Fractured
Year: 2015
Country:
USA
Genre: Drama / Horror / Thriller
Review: May Oster, played by Athena Lebessis, is a beautiful, pensive, somber woman in her mid twenties; a beautiful woman that discovers her boyfriend's bloody scarf in her apartment following a black-out episode. This unearthed white scarf covered in crimson drives May to attempt suicide. May is taken to a psychiatric ward under the care and influence of Dr. Ballard, a fifty-eight year old psychiatrist/acclaimed author, played by Eric Roberts. May is immediately thrown into seclusion. Detective James Harding, played by Jake Busey, appears to question May about a horrific murder. This questioning thrusts May into narrating an in-depth story about an unnamed woman's involvement with unsavory characters leading to multiple murders. Will May regain her sanity, restore her normal life and unravel the mystery of her true love? Only time will tell. - IMDb

Golden Shoes
Year: 2015
Country:
USA
Genre: Family
Review: In a time when our nation is in need for inspiration, what will it take to pull us together and give us hope? Eight year old Christian Larou (Played by Christian Koza) is about to face the biggest challenge of his life. The hopeful youth is a dreamer, ever since he was a young boy he has dreamed of becoming a great soccer player the likes of Cristiano Ronaldo. Unlike other young boys, Christian believes in his heart and soul, that he can be the best soccer player in the USA and play for the National Youth team. But first, he must overcome the impossible. The Golden Shoes soccer movie is inspired by kids who through their love for sports, find a way to deal with bullying and intolerance. Christian's character is bullied by both children and adults and his friendship with Julian the goalie (Played by Aedin Mincks of Disney's Ant Farm) helps Christian get through these trying times. Could Christian's journey to the top of the soccer world make him the new Cristiano Ronaldo? Will Christian end up finding his way and inspire an entire nation in a time of need? The Golden Shoes soccer movie is the likes of Rudy meets Bend It Like Beckham. It is full of emotion and twists, and will get the audience all rooting for the child star who may just inspire us all. The Golden Shoes soccer movie will be released in 2013 and features an all-star cast including Eric Roberts, John Rhys-Davies, David DeLuise, Vivica A. Fox, Dina Meyer, Christian Koza, Joshua Morrow, Montel Williams, and Aedin Mincks. Don't miss this amazing film and find out if Christian Larou's dream of becoming the new Cristiano Ronaldo comes true! - IMDb

Zerkala
Year: 2013
Country:
Russia
Genre: Biography / Drama / Family / History
Review: The film is based on the life of Marina Tsvetaeva, one of the most tragic and greatest poets of the 20th century. The authors follow her in Russia, then in immigration in Prague and Paris, and then her return to Russia where she committed a suicide a few month after her arrival. - IMDb

Dead Before Dawn (TV)
Year: 1993
Country:
USA
Genre: Drama / Thriller
Review: Based upon a true story. Wife with young family finds life becoming unbearable with her successful, but violent and abusive, husband. After filing for divorce, she quickly learns that her husband, through fear of his personal life embarrassing his clients, has commissioned an assassin to murder her before going to court. Unfortunately, for him, the hired assassin turns out to be an FBI agent. The FBI convince her that she must "pretend" to have been murdered in order to prove her husband's involvement. - IMDb

Buenos días resistencia
Year: 2013
Country:
Spain
Genre: Documentary / Short / Family
Review: Very realistic, almost a morning ritual long, we observe a father getting his children up and ready for school. - IMDb

Killer Elite
Year: 2011
Country:
UK
Australia
Genre: Action / Crime / Thriller
Review: Loosely based on a true story, Killer Elite pits two of the worlds' most elite operatives - Danny, a ruthless killer-for-hire (Jason Statham) and Hunter, his longtime mentor (Robert De Niro) - against the cunning leader of a secret society of former Special Air Service operatives('Clive Owen'). Covering the globe from Australia to Paris, London and the Middle East, Danny and Hunter are plunged into a highly dangerous game of revenge and deception - where things are not always what they appear to be. - IMDb

The Martian
Year: 2015
Country:
USA
Genre: Adventure / Drama / Sci-Fi
Review: During a manned mission to Mars, Astronaut Mark Watney is presumed dead after a fierce storm and left behind by his crew. But Watney has survived and finds himself stranded and alone on the hostile planet. With only meager supplies, he must draw upon his ingenuity, wit and spirit to subsist and find a way to signal to Earth that he is alive. Millions of miles away, NASA and a team of international scientists work tirelessly to bring "the Martian" home, while his crewmates concurrently plot a daring, if not impossible, rescue mission. As these stories of incredible bravery unfold, the world comes together to root for Watney's safe return. - IMDb
Who Has a Birthday Today?
---