Welcome, guest!
What's on TV in Europe?
---

Inspecteur Gadget


17:40




Gulli TV


Inspecteur Gadget


18:05




Gulli TV


Crazy, Stupid, Love


19:15




VOX
---
[Full TV Announce] [TV Programs]
Added Movies

Curious George (TV series 2006–)
Year: 2006
Country:
USA
Genre: Animation / Family

Laurence Anyways
Year: 2012
Country:
Canada
France
Genre: Drama / Romance
Review: The movie highlights ten years in the life of a literature teacher named Laurence who transforms himself into a woman after years of concealing his feelings. Her tremulous relationship with her family is further complicated by revealing herself to them while she struggles to find comfort with her significant other Frédérique. Though others may not initially accept or understand Laurence in her true form, those who knew her before her transformation still know her as Laurence, anyways. - IMDb

Les pee-Wee 3D: L'hiver qui a changé ma vie
Year: 2012
Country:
Canada
Genre: Comedy / Drama / Family / Sport
Review: The story of a group of young hockey players, living in a small village in Quebec, preparing to compete in the season of their lives. They will try to participate in the most prestigious minor hockey tournament in the world: World Hockey Tournament Peewee Quebec. - IMDb

Les bougon: C'est aussi ça la vie (TV series 2004–2006)
Year: 2004
Country:
Canada
Genre: Comedy
Review: A blue-collar schlob loses his job and decides to dedicate his life to screwing the system, and making life hell for those more fortunate than he is. His family also adopts this mentality. Stolen gasoline, brutally murdered cats and androgynous adopted Chinese children ensue. - IMDb

The El Chupugcabra
Year: 2013
Country:
USA
Genre: Short / Comedy / Horror
Review: Despite the insane warnings around them a young family decides to adopt a pug with a supposed evil streak. - IMDb

Cowboys
Year: 2014
Country:
Spain
Genre: Short / Comedy / Drama
Review: Martin is a finished actor, both professionally and personally. He is divorced, has no friends and a son he has not talked to for more than a year. But one fine day he will get a working offer his agent will not let him pass: to be companion of a 5 years old boy in a costume contest at the Amusement Park. - IMDb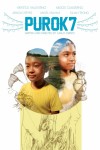 Purok 7
Year: 2013
Country:
Philippines
Genre: Comedy / Drama / Family
Review: A countryside dramedy (drama-comedy) that follows 14-year-old Diana and her younger brother who live by themselves after their mother went abroad and their father lived with another woman. Set in a remote 'Purok' (zone), where people display positive outlook in life despite daily struggles, the film features the light side of country lifestyle as the main characters take advantage of the fun and thrills of the town festival to take hold of their sweet childhood. - IMDb

Web Junkie
Year: 2013
Country:
Israel
USA
Genre: Documentary / Drama
Review: The Chinese government is the first to classify internet addiction as a clinical disorder. 'Web Junkie' identifies internet addiction and focuses on the treatment used in Chinese rehabilitation centres. The film delves into a Beijing treatment centre and explores the cases of three adolescents from the day they arrive at the treatment centre through the three-month period of being held at the centre, and then their return to their homes. The film follows both the underlying issues related to the disorders, as well as the manner and treatment the patients receive. Professor Tao Ran established the world's first internet addiction clinic, and he promises to cure children of so-called internet addiction, which has grown into one of China's most feared public health hazards. The program admits children between the ages of 13 and 18 years; they are forced to undergo military-inspired physical training and comply with monitored sleep and food standards. Throughout their stay at the clinic, they are patrolled by the military guards who protect the children's quarters, which, like prisons, are surrounded by gates and fences. Despite such conditions, parents voluntarily send their children to the treatment centre and relinquish personal involvement. There is no one-on-one therapy, and the children's psychological needs are 'met' with group therapy sessions twice a week. The treatment is very expensive, and parents often borrow money in order to afford to send their child to the clinic. For them it is worth it - steering their child away from this addiction and redeveloping direct communication skills takes priority. 'Web Junkie' provides a microcosm of modern Chinese life, examines intergenerational pressures, and takes a hard look at one of the symptoms of the internet age. - IMDb

Barney: Let's Go to the Doctor
Year: 2012
Review: It's check-up time! Barney teaches that doctors are our friends and shows how pediatricians, dentists and veterinarians keep people and animals healthy and strong! - IMDb
Faridullahs fridag
Year: 2013
Country:
Denmark
Afghanistan
Genre: Documentary / Short / Family / War
Review: At 11 Faridullah works 60 hours a week at an Afghan brick factory to pay off his father's debt. Having done nothing besides making bricks all his life, Faridullah feels time is slipping. He wants an education to pursue his dream of becoming a businessman. When the grim truth of his family's situation dawns on him, Faridullah seeks his own solution. - IMDb
Who Has a Birthday Today?
---