Welcome, guest!
What's on TV in Europe?
---

Комната страха


14:00




TV 1000 East


L'amour au pied du sapin


14:25




M6


Inspecteur Gadget


14:30




Gulli TV


Спираль


14:35




TV 1000 Russkoe Kino
---
[Full TV Announce] [TV Programs]
Added Movies

Eorin shinbu
Year: 2004
Country:
South Korea
Genre: Comedy / Drama / Romance
Review: The only thing sixteen year-old Seo Bo-Eun's grandfather wants is to see her wed, even going as far as to fake a fatal illness to get his way. He arranges her marriage to twenty-something Park Sang-Min, the grandson of a family friend. Keeping their marriage a secret from all but a select few, the newlyweds try to live their separate lives as normally as possible, but it becomes far more complicated than they ever imagined... - IMDb

Santa Claws
Year: 2014
Country:
USA
Genre: Family / Fantasy
Review: Santa is allergic to cats, so he has a policy against delivering them as gifts, but little Tommy has been SO good, and all he wants is one small kitty. Santa says OK, but instead of one, the whole litter climbs into the sack. When Santa has a major allergic reaction, the kittens have to take over and deliver the presents on time. - IMDb

TMP Panyee FC
Year: 2011
Country:
Thailand
Genre: Short / Drama / Sport
Review: In the small fishing village of Koh Panyee in Southern Thailand resides one of the most successful football youth teams. Produced as part of an advertising campaign, the Thai Military Bank introduce this dramatized documentary which looks at the roots of football in a village built on stilts with almost no space at all. Inspired after watching the 1986 World Cup on television, the local children build a floating wooden pitch with open sides and the occasional exposed nail and honed their skills on the wet wood with bare feet; however their first real challenge came when they went to the mainland for their first tournament. - IMDb

Ártún
Year: 2014
Country:
Iceland
Denmark
Genre: Short / Drama
Review: A boy from a small town has never kissed a girl. One day he and his friends decide to go to the 'big city' to see if they have more luck there. In the city, the boys get much more than they bargained for. - IMDb

Iceberg
Year: 2011
Country:
Spain
Genre: Drama

Eliot
Year: 2013
Country:
Belgium
Genre: Short / Drama
Review: A young man, Eliot, comes back in his childhood district with the aim of preparing a movie for the Film School's admission exams. He meets up with Florence, a girl he hasn't seen for years. Together they recall the days when Eliot lived to the full thanks only to the super 8 camera his understanding father had offered him, sweeping along in his cinematographic adventures his best friend Maxime, who is wholly different from him and so lively, as well as Florence, whom he secretly had fallen for. The discord will soon lead to competition between the two boys until the day Eliot gets humiliated and changes his film roles in order to gain Florence's favors. But nothing runs as expected... - IMDb

Independencia
Year: 2009
Country:
France
Philippines
Germany
Netherlands
Genre: Drama
Review: Mimicking early silent films, Independencia creates a lush metaphor that plays with cinematic illusions and the cultural and mythical history of the Philippines. - IMDb

The Unbroken
Year: 2012
Country:
USA
Genre: Thriller
Review: Sarah Campbell has to start her life over again after a messy divorce leaves her broken, lost, and alone for the first time in years. Having to live in a dumpy apartment complex with some interesting people is the least of her worries when strange things begin to happen in her new home including visions of a little boy in the mirrors. Passing them off as her "crazy imagination", things intensify when Sarah starts to have nightmares about being murdered and tossed into a shallow grave by a "shadowy figure". As her nightmares become more vivid, so do her encounters with the ghostly child who begins terrorize her and cause "accidents" wherever she goes. After a visit to a local "psychic/Paranormal expert", Sarah is told that she must help the ghost complete his unfinished business so he can cross to the other side. Through an encounter with her charming next door neighbor, Sarah realizes her neighbor is the "shadowy figure" that she has been dreaming about...and that he murdered the little boy. Now knowing what she has to do, Sarah along with her friend Tommy set out to prove that Mr. Middlebrooks is not the perfect neighbor he seems to be. - IMDb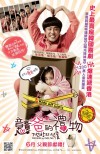 7-beon-bang-ui seon-mul
Year: 2013
Country:
South Korea
Genre: Comedy / Drama
Review: Successful Ryoo Seung-yong comes back as a fool Yong-gu for his daughter! Outsiders not allowed! In room number 7 of the prison where all kinds of criminals are gathered, comes Yong-gu, a father with the sense of a 6 year-old and his 7 year-old daughter Ye-seung. The mission of these criminals in room number 7 is to protect these two who can never stay apart for a single moment. Will they succeed? - IMDb

The Sparrows (TV series 2014–)
Year: 2014
Country:
USA
Genre: Family
Review: Following the death of his wife, a man moves home with his estranged father to try to build a new life for his two children. - IMDb
Who Has a Birthday Today?
---