Welcome, guest!
What's on TV in Europe?
---

Le bannissement


04:55




Ciné+ club


Le petit Nicolas


05:40




M6


Rintintin


06:00




Ciné+ famiz


Paulette


07:30




Ciné+ premier
---
[Full TV Announce] [TV Programs]
Added Movies
Ghost
Year: 2011
Country:
Denmark
Genre: Short / Fantasy / Horror
Review: Ghost is an expressionistic short film about a little ghost who wakes up alone in a empty town, and tries to find her way back home to her parents, whose relationship hangs by a thread after their loss. The world of the mother and daughter interweaves as she tries to make it trough a alien yet familiar landscape of places, emotions and memories in an attempt to get home. And get closure. - IMDb

Vypusknoy
Year: 2014
Country:
Russia
Genre: Comedy

Leviafan
Year: 2014
Country:
Russia
Genre: Drama
Review: On the outskirts of a small coastal town in the Barents Sea, where whales sometimes come to its bay, lives an ordinary family: Nikolai (Aleksey Serebryakov), his wife Lilya (Elena Lyadova) and their teenage son Romka. The family is haunted by a local corrupted mayor (Roman Madyanov), who is trying to take away the land, a house and a small auto repair shop from Nikolai. To save their homes Nikolai calls his old Army friend in Moscow (Vladimir Vdovichenkov), who has now become an authoritative attorney. Together they decide to fight back and collect dirt on the mayor. - IMDb

The Wolf of Wall Street
Year: 2013
Country:
USA
Genre: Biography / Comedy / Crime / Drama
Review: In The Wolf of Wall Street DiCaprio plays Belfort, a Long Island penny stockbroker who served 36 months in prison for defrauding investors in a massive 1990s securities scam that involved widespread corruption on Wall Street and in the corporate banking world, including shoe designer Steve Madden. - IMDb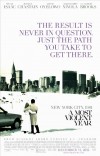 A Most Violent Year
Year: 2014
Country:
USA
Genre: Action / Crime / Drama / Thriller
Review: A crime drama set in New York City during the winter of 1981, statistically one of the most violent years in the city's history, and centered on a the lives of an immigrant and his family trying to expand their business and capitalize on opportunities as the rampant violence, decay, and corruption of the day drag them in and threaten to destroy all they have built. - IMDb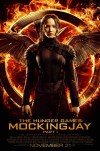 The Hunger Games: Mockingjay - Part 1
Year: 2014
Country:
USA
Genre: Adventure / Sci-Fi
Review: With the Games now destroyed and in pieces, Katniss Everdeen, along with Gale, Finnick and Beetee, now end up in the so thought "destroyed" District 13. Under the leadership of President Coin and the advice of her friends, Katniss becomes the "Mockingjay" and the symbol of rebellion for the people. - IMDb

Off Limits
Year: 2012
Country:
USA
Genre: Short / Drama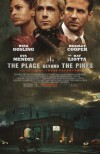 The Place Beyond the Pines
Year: 2012
Country:
USA
Genre: Crime / Drama / Romance / Thriller
Review: A mysterious and mythical motorcycle racer, Luke, (Ryan Gosling) drives out of a traveling carnival globe of death and whizzes through the backstreets of Schenectady, New York, desperately trying to connect with a former lover, Romina, (Eva Mendes) who recently and secretly gave birth to the stunt rider's son. In an attempt to provide for his new family, Luke quits the carnival life and commits a series of bank robberies aided by his superior riding ability. The stakes rise as Luke is put on a collision course with an ambitious police officer, Avery Cross, (Bradley Cooper) looking to quickly move up the ranks in a police department riddled with corruption. The sweeping drama unfolds over fifteen years as the sins of the past haunt the present days lives of two high school boys wrestling with the legacy they've inherited. The only refuge is found in the place beyond the pines. - IMDb

The Blacklist (TV series 2013–)
Year: 2013
Country:
USA
Genre: Crime / Drama / Mystery / Thriller
Review: Former government agent Raymond "Red" Reddington (James Spader) has eluded capture for decades. But he suddenly surrenders to the FBI with an offer to help catch a terrorist under the condition that he speaks only to Elizabeth "Liz" Keen (Megan Boone), a young FBI profiler who's just barely out of Quantico. - IMDb

God's Pocket
Year: 2014
Country:
USA
Genre: Crime / Drama
Review: When Mickey's crazy step-son Leon is killed in a construction 'accident', nobody in the working class neighborhood of God's Pocket is sorry he's gone. Mickey tries to bury the bad news with the body, but when the boy's mother demands the truth, Mickey finds himself stuck in a life-and-death struggle between a body he can't bury, a wife he can't please and a debt he can't pay. - IMDb
Who Has a Birthday Today?
---