Welcome, guest!
What's on TV in Europe?
---

Sous le figuier


07:25




Canal+


Reviens-moi


07:30




Ciné+ émotion
---
[Full TV Announce] [TV Programs]
Added Movies

Gallows Hill
Year: 2013
Country:
USA
Genre: Horror / Mystery / Thriller
Review: A family are involved in an accident and take refuge in a secluded inn, where they free a girl locked in a basement without knowing she's an ancient evil. - IMDb

Bilet v odin konets
Year: 2012
Country:
Russia
Genre: Sci-Fi
Review: Eva misses her dead daughter and will do anything to reverse the car accident that killed her. Nicola, the grandson of famous inventor Nicola Tesla, offers to help bringing her daughter back by using a time machine. It can reverse time but there is a catch... the resurrected person will age very quickly. - IMDb

Linko
Year: 2014
Country:
Spain
Genre: Adventure / Drama / Sci-Fi
Review: In a near future, after a global war has destroyed civilization, pirate gangs attack and loot surviving people. Kurt and his 9 years-old son Icaro manage to live safely in an abandoned airport lost on a remote island. But one day an intruder arrives, the young and wild pirate Linko. - IMDb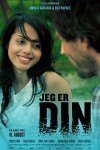 Jeg er din
Year: 2013
Country:
Norway
Genre: Drama
Review: Mina is a young single mother living in Oslo with her 6 year old son Felix. She is an Norwegian Pakistani with a troublesome relationship with her family. Mina is constantly looking for love and has relations to different men, however none of the relationships bearing any hope of lasting very long. So when Mina meets Jesper, a Swedish film director, she falls head over heals in love. - IMDb

Turist
Year: 2014
Country:
Sweden
Denmark
Norway
Genre: Drama
Review: A Swedish family travels to the French Alps to enjoy a few days of skiing. The sun is shining and the slopes are spectacular but, during a lunch at a mountainside restaurant, an avalanche turns everything upside down. With diners fleeing in all directions, mother Ebba calls for her husband Tomas as she tries to protect their children. Tomas, meanwhile, is running for his life... The anticipated disaster failed to occur, and yet the family's world has been shaken to its core, a question mark hanging over their father in particular. Tomas and Ebba's marriage now hangs in the balance as Tomas struggles desperately to reclaim his role as family patriarch. - IMDb

Kapgang
Year: 2014
Country:
Denmark
Genre: Drama
Review: In Speedwalking, Martin (14) is forced to deal with confused sexuality and the loss of a mother in a provisional setting in the mid seventies, where the famed Danish liberation of porn has had its influence on the grownups. - IMDb

Don't Be Scared
Year: 2006
Country:
USA
Genre: Horror
Review: A serial killer is on the loose and looking for more victims amongst unsuspecting college students. - IMDb
Who Has a Birthday Today?
---