Welcome, guest!
New Video
---
Trailer

Sune i fjällen

Trailer

Wiplala

Trailer

Underdog Kids
What's on TV in Europe?
---

La lumière


16:10




Ciné+ club


Rose & noir


18:05




Ciné+ famiz


Назад в будущее 2


19:00




STS
---
[Full TV Announce] [TV Programs]
Added Movies
Wat konijnen mogen weten
Year: 2013
Country:
Netherlands
Genre: Documentary / Biography / Drama / Family
Review: For Fluffy ears only is a portrait of the eight-year-old Lulu. Her mother Bibian has passed away nine months ago and her stuffed animal Rabbit is the only one Lulu confides in when she is sad. Rabbit plays her part in the plays Lulu makes up, asks her how her day was and keeps her secrets. Things her brothers and father are not allowed to know. An intimate and touching coming-of-age documentary about the perseverance of a young girl, who can bring her stuffed animal to life. - IMDb

Chao ban bao bao
Year: 2006
Country:
Hong Kong
Genre: Action / Adventure / Comedy / Crime / Drama

Tung mung kei yun
Year: 2005
Country:
Hong Kong
Genre: Comedy / Drama / Sci-Fi
Review: Kwong is a young boy coping with a difficult family life. His mother committed suicide when she discovered that her husband, Chan, was having an affair. Since her death, Chan has married his mistress, Tsui, whom Kwong understandably hates. He wishes that he could become an adult so he wouldn't have to do what she says anymore - and, as luck would have it, Kwong has a run-in with a strange drifter in the park who has developed a magical growth formula. Kwong steals it, which soon causes him to begin aging very rapidly. Now as an adult, Kwong can do anything he wants - like stay out late, get drunk or even flirt with his sexy teacher, Miss Lee - but he doesn't stop growing, and within a couple of days Kwong is to become an old man. - IMDb

Sune i fjällen
Year: 2014
Country:
Sweden
Genre: Comedy / Family
Review: The Svensson family goes on a ski-vacation during the winter holiday. Sune the family flirt girl-charmer is yet again pulled into a difficult relationship and his father Rudolf is pushed into difficulty parent challenges while the little brother Håkan is up to no good. The big sister being ashamed of her family and the mother Karin tries to glue the family together and enjoy their vacation. - IMDb

Wiplala
Year: 2014
Country:
Netherlands
Genre: Adventure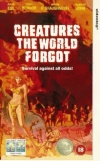 Creatures the World Forgot
Year: 1971
Country:
UK
Genre: Adventure / Horror / Sci-Fi
Review: In prehistoric times two brothers (a more or less good one and a more or less bad one) fight each other for the leadership of their tribe. - IMDb
Who Has a Birthday Today?
---