Threat Matrix (TV series 2003-2004)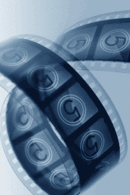 | | |
| --- | --- |
| | |
| Aka: | Végveszélyben (Hungary) |
| Director: | Fred Gerber, Guy Norman Bee, David Grossman ... more |
| Year: | 2003 |
| Country: | USA |
| Runtime: | 60 minutes |
| Genre: | Drama / Thriller / Mystery |
Review:
In a deep underground bunker called 'The Vault' located somewhere in Washington D. C. a group of CIA, FBI and NSA agents work together as part of the USA Homeland Security Force to keep the America safe from terrorists and other threats that the US President receives in a series of classified documents code titled the 'Threat Matrix'. The leader of this unit is Special Agent John Kilmer, a brilliant 42-year-old former FBI agent whom has White House authorization to call upon the technical skills, firepower and the specialist agents. Kilmer reports only to Colonel Roger Atkins, the gruff and shrewd operations liaison to the President. Kilmer is always conflicted by the presence of his ex-wife, Special Agent Frankie Ellroy-Kilmer, on his team. Frankie is a 35-year-old, ruthless and highly trained CIA interrogation expert and 'profiler' whose skills allow her to crack even the most hardened enemies. The rest of Kilmer's team make up of Mohammad 'Mo', a 34-year-old Egyptian-American former CIA operative stationed in the Middle East; Lia 'Lark' Larkin, a 36-year-old former FBI forensics specialist; Tim Vargus, a 28-year-old ex-DEA agent from Miami; Jelani, a 24-year-old African-American computer genius who intercepts phone, fax and radio signals from around the world and supports the team with the latest NSA technology, as well as the hearing-impaired, but equally intelligent Holly Brodeen, a young NSA computer tech expert who coordinates with Jelani. - IMDb
Children's Cast:
| | | |
| --- | --- | --- |
| | Andrew Hoeft | Young Heath Shelby (TV Episode: Under the Gun) (2003) |
Poll. 'How do you like the new view of our site?'
---
It is great!
1254
(51%)
Not bad
564
(23%)
So so
242
(10%)
I am not impressed
176
(7%)
It is terrible
227
(9%)