Welcome, guest!
What's on TV in Europe?
---
Ни слова о футболе


08:00



Останься со мной


08:01



Poséidon


08:15



---
[Full TV Announce] [TV Programs]
Added Movies

Sekretny farvater (TV)
Year: 1986
Genre: Action / Adventure / War
Review: Scene of film action takes place in Baltic Sea during WWII in 1944-45. - IMDb

Nao mo
Year: 1983
Country:
Hong Kong
Genre: Horror
Review: Ben (Chen Kuan-Tai) wants wealth and brings home a brain devil in a box to be used in his black magic rituals. Along with a bottle of holy water he knows he can stop the devil if needed. When the bottle of holy water is destroyed all hell breaks loose! "Black Magic with Buddha" by Lo Lieh is a wild transgressive horror movie with some nasty grue and brain devil attacking people.

Incontro nell'ultimo paradiso
Year: 1982
Country:
Italy
Genre: Adventure / Comedy
Review: Due giovani sono in Amazzinia per un reportage. Capità però che acquistino nafta al posto della benzina e rimangano isolati senza poter raggiungere la loro destinazione. Ormai persi vengono catturati dagli indigeni e la loro situazione sembra disperata. Ma l'atterraggio di un idrovolante infonde loro fiducia; ma cadono dalla padella nella brace. Si tratta di avventurieri venuti a cercare rubini utilizzando come schiavi gli indigeni e sono capitanati dal cattivissimo Dupré. Riescono a salvarsi facendo credere di sapere dove si possono trovare i rubini, quindi fuggono e fanno una grande scoperta: una ragazza bianca che agisce come Tarzan e che battezzano la figlia della giungla. Ma le cose sono destinate ad aggrovigliarsi ulteriormente. - IMDb

The Ghost Club: Spirits Never Die
Year: 2013
Country:
USA
Genre: Horror / Mystery / Thriller
Review: The Ghost Club, an ancient organization of ghost explorers that included Charles Dickens and Sir Arthur Conan Doyle continue there brand in a prime time ghost show. A transmedia story told across augmented reality games, webisodes, web sites, and alternate reality games the first episode of the movie series: The Ghost Club: Spirits Never Die is the episode that rocked the old club in new ways. William Forsythe as the caretaker takes the crew on a sexy thrill ride they didn't expect. - IMDb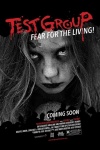 Test Group
Year: 2015
Country:
USA
Genre: Drama / Horror
Review: A visually striking and psychologically... difficult... film to watch. Yes. It's that creepy. With a feel as if "happening" in the late 1980's, Test Group is the "human" story of becoming undead... Sometimes what is not shown or depicted can be down right terrifying... The dark ambience of "Electronica" master Candy Apple Black, the vibe only forces the viewer into deeper, darker places with their own separate issues... Premieres Halloween 2015 in Atlanta! Written, Directed and Produced by Keith Bailey. Co-Produced by Ginger Paige and Albert Roberts. - IMDb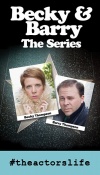 Becky & Barry #theactorslife (TV series)
Year: 2011
Country:
USA
Genre: Comedy
Review: The actor's life is full of rejection, but nothing can dissuade Becky and Barry from their dream of Hollywood. With a mix of endearing naivety and tenacity, they might just make it. - IMDb

The Puppeteer
Year: 2016
Country:
USA
Genre: Short / Drama
Review: Two friends wonder who really controls the strings attached to their wrists. - IMDb

Farewell
Year: 2016
Country:
USA
Genre: Short / Drama
Review: A fearless Cassanova looks back at his life while struggling with becoming content. - IMDb

Patient
Year: 2016
Country:
USA
Genre: Horror / Thriller
Review: After escaping a cult suicide, a paraplegic hospital patient is tormented by malevolent spirits and cursed to kill whomever hears her voice, unless she offers up the soul of her innocent nephew in place of her own. - IMDb
Poll. 'How do you like the new view of our site?'
---
It is great!
481
(51%)
Not bad
217
(23%)
So so
94
(10%)
I am not impressed
85
(9%)
It is terrible
69
(7%)
Who Has a Birthday Today?
---