Welcome, guest!
What's on TV in Europe?
---
Ip Man, la légende est née


16 Aug, 21:41



Eine neue Chance


16 Aug, 22:50



Na lince je vrah


16 Aug, 22:55



---
[Full TV Announce] [TV Programs]
Added Movies

Navigatori dello spazio
Year: 1993
Country:
Italy
USA
Genre: Adventure / Sci-Fi
Review: An alien starship commanded by a robot Jay Seven, shipwrecks on earth. Jay Seven is helped in going back to his planet by a twelve year old boy, Bob. When Bob goes back to earth he finds out that five years have elapsed and he has to adjust himself to the new reality. - IMDb

Love Letter (TV series)
Year: 2003
Country:
South Korea
Genre: Drama
Review: Lee Woo-Jin, also known as Andrew (Jo Hyeon-Jae), became an orphan at a young age and ended up living with his abusive aunt. He faithfully prays that one day God will save him from his hardships. His prayers are answered when his uncle, Father Pedro (Son Hyun-Joo), comes to rescue him from his dismal environment. Father Peter raises Andrew into a promising young man. As a gentle and optimistic high school kid, Andrew meets Jo Eun-Ha (Soo-ae) and sympathizes with her as both of them share the common experience of losing their parents. Andrew's genuine and delicate concern for Eun-Ha brings their friendship to the brink of love. However, they must remain only friends as Andrew reveals to her his wish to become a priest. Upon graduating from high school, both Andrew and Eun-Ha are accepted into medical school in Seoul. Andrew meets Jung Woo-Jin (Ji Jin-Hee). Both of them have the same given name and soon become great friends. Meanwhile, Jung Woo-Jin starts to have feelings for Eun-Ha and tries his best to charm her. As Andrew's two best friends gradually become closer and closer, he feels an emptiness and realizes for the first time that he has lost his heart to Eun-Ha... - IMDb

Haepi ero Keurisemaseu
Year: 2003
Country:
South Korea
Genre: Comedy / Romance
Review: Byung-ki (Cha Tae-hyun) is a clumsy village policeman who helps out with trivial tasks like distributing promotional papers, though he dreams of fighting evil. One day, he runs into Min-kyong (Kim Sun-a), an employee at the neighborhood bowling alley, and falls for her at first sight. However, his attempts to woo her go unnoticed. Meanwhile, Sang-doo, the boss of the local gang (with whom Byung-ki harbors a boyhood grudge) also swoons over Min-kyong and vows to take her virginity on Christmas Eve. - IMDb

Dan Pat Ppang (TV series 2004-2005)
Year: 2004
Country:
South Korea
Genre: Drama / Romance
Review: Ga-ran and Nam-joon were classmates in elementary school. Ga-ran is a tomboy who prefers trousers to skirts, and loves taekwondo more than her piano lessons. Nam-joon on the other hand is Mr. Perfect who's got good looks, a fine brain, and is the most popular guy in school, especially among the girls. One day, Ga-ran sees Nam-joon giving away the sweet bun which Ga-ran's friend gave him, to another girl. Ga-ran throws herself at Nam-joon and beats him up, and their rivalry lasts throughout high school. A few years after college, Ga-ran and Nam-joon meet again as adults, both recovering from recent break-ups. Despite their constant bickering, they gradually realize that they're meant to be. - IMDb

Seulpeun yeonga (mini)
Year: 2005
Country:
South Korea
Genre: Drama
Review: Hye-In was blind when she was born, Jun-Young's mother work in night clubs and make Jun-Young being laughed by friends. Once Jun-Young and Hye-In walked together, Hye-In gave Jun-Young a sliver card badge with her name "Hye-In". Hye-In's aunt, Audrey, took Jun-Young's mother(all cash) and bring Hye-In and left Jun-Young. Jun-Young (Sang-Woo Kwone) grew up, with mother died, father re-married. the remarried mother took all Jun-Young's money away, and Jun-Young has to work in construction sites to earn money for his college studies. He met Lee Gun-Woo (Yeon Jeong-Hoon, originally Song Seung-Heun) and Gun-Woo also met Hye-In in the street in USA, just outside Harvord University. Gun-Woo buy Hye-In new dress, and gave Hye-In money so Hye-In could see again. Hye-In open her eyes, saw Gun-Woo, she didn't know that Jun-Young is still alive, and began to love Gun-Woo. Gun-Woo told Jun-Young to meet his new girl. Jun-Young saw Hye-In, lost control. Hwa-Jung, the cheerleader of Jun-Young's class, only loves Jun-Young. But Jun-Young doesn't love Hwa-Jung. Hwa-Jung even return Hye-In's USA letters to Hye-In, make Hye-In commit suicide. Audrey met Willie, the USA sailor, but he was mad, and crazy, drunk easily and even horny. He even rape Hye-In. Jun-Young saved Hye-In from some bad guys when Hye-In was captured on a street (waiting Jun-Young) with her teddy bear. Jun-Young finally played the "sad Sonata" to make Hye-In to recognize himself. Gun-Woo was angry that Jun-Young and Hye-In are known before and even love together. Jun-Young ask Gun-Woo to hit himself, but Gun-Woo force both Hye-In and Jun-Young to leave away from himself as far as they could go. Gun-Woo inherit father's business and offended a Korean company boss. the boss sent a killer to plan to kill Gun-Woo but finally Joon-Young took that bullet up. Gun-Woo ask friend to send Joon-Young to hospital. Doctor said Joon-Young had his kidneys destroyed and must have immediate operation to save life. But Joon-Young refused and died in HyeIn's concert. 14 years later, HyeIn found her son able to play guitar like his father, Joon-Young. - IMDb

Eillion Saem (TV series)
Year: 2006
Country:
South Korea
Genre: Comedy
Review: Alexander is a reptilian prince from another planet who lands on earth. He disguises himself as a human named Bong Sam and works as a teacher at a middle school. - IMDb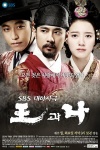 Wang-gwa Na (TV series 2007-2008)
Year: 2007
Country:
South Korea
Genre: Drama / History
Review: It's about Kim Cheo Seon's life during the Joseon Dynasty. Kim Cheo Seon was a loyal and faithful eunuch for various Kings, such as the 5th King, Munjong, and the 10th King, Yeonsangun, during the Joseon era. - IMDb

Taewang sasingi (TV series)
Year: 2007
Country:
South Korea
Genre: Drama
Review: This drama portrays the life of the 19th king of Goguryeo, Hwanwoong, who was sent from the heavens to make the world a better place. He falls in love with Saeoh and gives her the joojak necklace; however, Kajin becomes jealous since Saeoh has given birth to Hwanwoong's son. She takes the baby and throws him off a cliff. Saeoh, thinking that her son had died, is overcome with grief and turns into the black joojak to destroy the world. Hwanwoong is the only one who could stop her. Afterwards, Hwanwoong returns to the Heavens and prophecizes that 2000 years later, the true Joo Shin king will come to Earth. With the help of the four gods, he will rebuild Joo Shin. - IMDb

Yokmangeui Bulkkot (TV series 2010-2011)
Year: 2010
Country:
South Korea
Genre: Comedy / Drama
Review: The story of a conglomerate family that falls apart when the members are caught up in a furious battle for succession. Kim Tae-jin's children all covet his fortune and the power that he possesses as the company president, and they would do anything, however cruel and inhumane, to wrest it from the others. At the forefront of this desperate game is Yoon Na-young, the ruthless and ambitious wife of Kim Young-min, Tae-jin's third son. Her unquenchable thirst for power and wealth drove her to the point of no return, manipulating both husband and son to achieve her own desires. - IMDb
Poll. 'How do you like the new view of our site?'
---
It is great!
361
(49%)
Not bad
183
(25%)
So so
70
(10%)
I am not impressed
74
(10%)
It is terrible
48
(7%)
Who Has a Birthday Today?
---