Welcome, guest!
What's on TV in Europe?
---
Une famille à louer


07:30



---
[Full TV Announce] [TV Programs]
Added Movies

Cargo
Year: 2017
Country:
Lebanon
Genre: Short

Elemental gelade (TV series)
Year: 2005
Country:
Japan
Genre: Animation / Action / Adventure / Fantasy
Review: After a routine raid, the rookie sky pirate Cou finds a most unusual cargo in his mates' cargo hold: Ren, an "Edel Reid", a race prized by humans for granting special combat power to their partners through "Reacting". He quickly discovers, however, that Ren is even more prized than he expected. The pirate ship is visited by three members of the Edel Reid Complete Protection Agency "Arc Aire", who try to purchase her. When Cou refuses, the ship is suddenly attacked by a mysterious force, and Cou's captain charges him with Ren's protection. In this series, there are three human "species", humans, Edil Raid/Eden Reid and Sitting Raid. The Raids have magical power and can "react" with human beings. If they do so they become living weapons with several great abilities. Sitting Raid are artificially created Edil Raid. The sky pirate Could, the extremely strong and legendary, but newly awaken Edil Raid girl Ren and three members of Arc Aile, an Edil Raid protection organization, are on a ... - IMDb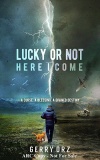 Lucky or Not: Here I Come
Year: 2017
Country:
USA
Genre: Short / Action / Adventure / Thriller
Review: This story is about John Wilson who has no talents or aspirations. He is certain that he will never live up to his parents' expectations. He's forever stuck in the shadows of his quarterback older brother and his multi-talented younger sister. However, just as he comes to accept his dull existence, a series of both extraordinary and devastating events changes John's life forever. John goes on a journey that turns out to be anything but ordinary as he embraces his own destiny in this adventurous and inspirational story of love, loss, and loyalty. As it turns out, anything is possible. - IMDb

Kaiken se kestää
Year: 2017
Country:
Finland
Sweden
Genre: Biography / Drama / Family

Marvin
Year: 2017
Country:
France
Genre: Drama
Review: A young man runs away from his family to become an actor. - IMDb

The Christmas Hope (TV)
Year: 2009
Country:
USA
Genre: Drama
Review: When lives intertwine during Christmas, hope is the only unifying gift. After suffering a personal tragedy, a social worker throws herself into finding homes for children in need. - IMDb

After the Fall
Year: 2014
Country:
USA
Genre: Crime / Drama
Review: A suburban father and husband embraces a life of crime in order to support his family. - IMDb

The Humanity Bureau
Year: 2017
Country:
Canada
Genre: Action / Sci-Fi
Review: A dystopian thriller set in the year 2030 that sees the world in a permanent state of economic recession and facing serious environmental problems as a result of global warming. - IMDb
Poll. 'How do you like the new view of our site?'
---
It is great!
465
(51%)
Not bad
212
(23%)
So so
91
(10%)
I am not impressed
83
(9%)
It is terrible
66
(7%)
Who Has a Birthday Today?
---