Welcome, guest!
What's on TV in Europe?
---
Famille d'accueil


04:50



Les misérables


05:40



Four Suns


06:00



---
[Full TV Announce] [TV Programs]
Added Movies

Aux battements du parloir
Year: 2016
Country:
France
Genre: Short / Drama
Review: 5 pieces of life showing the path of a young man from childhood to his twenties, as he visits his imprisoned father with his mother. - IMDb

Une petite zone de turbulences
Year: 2009
Country:
France
Genre: Comedy
Review: Retired Englishman George Hall's hypochondria worsens and takes its toll on his family. - IMDb

The Ottoman Lieutenant
Year: 2017
Country:
Turkey
USA
Genre: Drama / War
Review: A beautiful, strong-willed woman, who, frustrated by ongoing injustice at home, leaves the United States after meeting Jude, an American doctor who runs a remote medical mission within the Ottoman Empire - a world both exotic and dangerous, and on the brink of what is about to become the first World War. There, she finds her loyalty to Jude and the mission's founder tested when she falls in love with their perceived enemy, a lieutenant in the Ottoman Imperial Army. Now, with invading army forces at their doorstep, and the world about to plunge into all-out war, she must make a decision if she wants to be what other people want her to be, or to be herself. - IMDb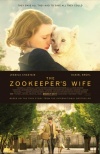 The Zookeeper's Wife
Year: 2017
Country:
Czech Republic
UK
USA
Genre: Biography / Drama / History / War
Review: War brews over Warsaw in 1939, and while life is still running its course, the Germans are slowly beginning to make their presence felt, with Hitler secretly preparing for the German invasion of Poland. Under those circumstances, the young couple of Jan and Antonina Zabinski continue their daily routine as owners and keepers of the Warsaw Zoo, but soon, as German Luftwaffe's Stukas hammer the Polish capital, their life's work together with the city, will turn to ashes. However, with the zoo liquidated for the war effort and many of its animals tragically perished, what was once an animals' zoo, will now serve as a sanctuary where Antonina, the humanist veterinarian, and Jan can hide the persecuted Polish Jews in plain sight until safe houses are found. That was Jan and Antonina's formidable, yet perilous plan, who regardless of the consequences, refused to wither before the Nazi menace, took matters into their own hands and sheltered 300 Jews under the Germans' noses. - IMDb

Maintenant ou jamais
Year: 2014
Country:
France
Belgium
Genre: Crime / Drama
Review: Everything seems to be going right for a part-time piano teacher, Juliette. She's the mother of two fun-loving and well behaved boys, while her husband, Charlie, has a finance job that's allowed them to build a beautiful country house they'll be moving into next month. But when Charlie gets canned from work and can no longer pay his mortgage payments, the creditors quickly threaten to repossess the property, leaving his family stranded in their cramped Paris apartment. Only a few days later, Juliette gets her purse snatched by a brooding, attractive street thug named Manu. When she's called to identify him in a police lineup, she decides to let him go, only to solicit his help in her scheme to steal a half-million Euros from a local bank. - IMDb

Les hommes de l'ombre (TV series 2012-2016)
Year: 2012
Country:
France
Genre: Drama
Review: After the french president is killed by an assassin, a political intrigue about the following campaign begins. The best friend of the dead president and his spindoctor installs the socialminister as a candidate against the incumbent premier-minister. - IMDb

Caprice
Year: 2015
Country:
France
Genre: Comedy / Romance
Review: An average guy meets an actress who is more beautiful than he could ever imagine. But then a pesky girl materializes to make his life a living hell. His perfect girlfriend now thinks that he is involved with this Caprice. - IMDb

Le goût des merveilles
Year: 2015
Country:
France
Genre: Comedy / Drama / Romance
Review: Louise, a widow with two children, almost crushes a stranger with her car. She takes care of him, even if he's not really wounded. It turns out that he has mental disorders and that they can help each other much more than they thought. - IMDb
Poll. 'How do you like the new view of our site?'
---
It is great!
335
(48%)
Not bad
173
(25%)
So so
68
(10%)
I am not impressed
73
(11%)
It is terrible
43
(6%)
Who Has a Birthday Today?
---