Welcome, guest!
What's on TV in Europe?
---
La banquière


06:30



---
[Full TV Announce] [TV Programs]
Added Movies

Ponts de Sarajevo
Year: 2014
Country:
France

Bosnia and Herzegovina
Switzerland
Italy
Portugal
Bulgaria
Germany
Genre: Drama
Review: 13 European directors explore the theme of Sarajevo and what this city represents in European history over the past hundred years, and what Sarajevo incarnates today in Europe. From different generations and origins, these eminent filmmakers offer many singular styles and visions. François Schuiten, famous Belgian comic book artist (Cities of the Fantastic) imagined animated cartoon links in between these films, a metaphoric transposition in his graphically luxuriant world of the emblematic bridges of the city of Sarajevo. - IMDb

Ich war zuhause, aber
Year: 2019
Country:
Germany
Serbia
Genre: Drama
Review: After a 13-year-old student disappears without a trace for a week and suddenly reappears, his mother and teachers are confronted with existential questions that change their whole view of life. - IMDb

Lazzaro felice
Year: 2018
Country:
Italy
Switzerland
France
Germany
Genre: Drama
Review: This is the tale of a meeting between Lazzaro, a young peasant so good that he is often mistaken for simple-minded, and Tancredi, a young nobleman cursed by his imagination. Life in their isolated pastoral village Inviolata is dominated by the terrible Marchesa Alfonsina de Luna, the queen of cigarettes. A loyal bond is sealed when Tancredi asks Lazzaro to help him orchestrate his own kidnapping. This strange and improbable alliance is a revelation for Lazzaro. A friendship so precious that it will travel in time and transport Lazzaro in search of Tancredi. His first time in the big city, Lazzaro is like a fragment of the past lost in the modern world. - IMDb
Passing Rain
Year: 1995
Country:
South Korea
Review: Story of woman who is disillusioned with the poverty of rural life.

Homeful Bliss
Year: 2015
Country:
Belgium
Genre: Short / Drama
Review: One evening, 38-year-old Frank returns to his quiet residential house where his family has organised a surprise birthday party. - IMDb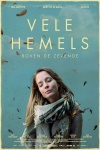 Vele Hemels
Year: 2017
Country:
Belgium
Genre: Drama
Review: Five people fight themselves more than each other, in this existence that's so beautiful and incredibly hard at the same time. - IMDb

Freedom of Silence
Year: 2017
Country:
Belgium
Genre: Short / Sci-Fi
Review: A little boy (Mo Bakker) on the run, comes into contact with 3 people hiding in an old mansion and unleashes a conflict between them as to whether they can trust him. Aster (Bram Verrecas), Rosanne (Joke Sluydts) and Manu (Marc Stroobants) however, are not aware of the danger they are in. - IMDb

Zie Mij Graag (TV series)
Year: 2017
Country:
Belgium
Genre: Drama
Review: Though she sometimes feels like pulling the blankets over her head and staying there, Anna tries to embrace her new life with enthusiasm. Supported by her two best friends, Saskia and Nicole, and the essential Shapewear, she steps out full of courage, looking for a new balance in her life and, who knows, perhaps a new Prince Charming. Meanwhile, Ben is struggling with his own problems, along with his best friend, Gunther, Saskia's husband. - IMDb

Niet Schieten
Year: 2018
Country:
Belgium
Genre: Drama
Review: In one fell swoop, nine-year old David Van de Steen lost his mother, his father and his sister in an attack by the Brabant Killers in Aalst. His grandfather, Albert, has the well-nigh impossible task of giving David a new perspective on life, a future. - IMDb

Tekbetek
Year: 2014
Country:
Azerbaijan
Russia
Genre: Short / Drama / Family
Review: Agali is a 12 year old boy who lives with his distant mother in the remote village in the northern Azerbaijan. He and his cousin and only friend Farrukh are inseparable and football is all they have in their otherwise dull and uneventful life, underlined by poverty and the roughness of the surrounding landscapes. Unlike Farrukh, Agali hates the school which he has no plans of graduating - he will be a top footballer like his hero, Portuguese football star Cristiano Ronaldo. Every day is a groundhog day for Agali and he spends it half asleep, half dreaming, and coming back to life only in the moments when him and Farrukh kick the football on the way to and back from school. But when the time comes for a middle-school graduation test, Agali realizes that something must be done to pass, with Farrukh's mother's teaching job suddenly at stake. - IMDb
Poll. 'How do you like the new view of our site?'
---
It is great!
983
(52%)
Not bad
410
(21%)
So so
180
(9%)
I am not impressed
150
(8%)
It is terrible
184
(10%)
Who Has a Birthday Today?
---