Welcome, guest!
What's on TV in Europe?
---
The Crush


14:35



Panny z Wilka


14:40



---
[Full TV Announce] [TV Programs]
Added Movies

Sydney to the Max (TV series)
Year: 2019
Country:
USA
Genre: Comedy / Family
Review: A heartwarming and sentimental comedy, "Sydney to the Max" centers around the experiences of a sociable, goodhearted middle schooler named Sydney Reynolds and her protective, doting - and sometimes clueless. - single dad Max as they navigate the challenges of growing up. Set during two time-frames, decades apart, flashback scenes to young Max and his best friend Leo in the 1990s parallel many of the funny predicaments Sydney and her BFF Olive get themselves into. VHS camcorders, bleached skater hair and other '90s-defining "relics" aside, Sydney and Max come to realize, aided by Sydney's kicky grandmother Judy, who's well-versed in Max's childhood antics, that they have more in common than either realizes. - IMDb

For the People (TV series)
Year: 2018
Country:
USA
Genre: Drama
Review: Set in the Southern District of New York (SDNY) Federal Court, aka "The Mother Court," the legal drama follows brand new lawyers working for both the defense and the prosecution as they handle the most high profile and high stakes cases in the country - all as their personal lives intersect. - IMDb

Self/less
Year: 2015
Country:
USA
Genre: Action / Mystery / Sci-Fi / Thriller
Review: An extremely wealthy man, dying from cancer, undergoes a radical medical procedure that transfers his consciousness into the body of a healthy young man. But all is not as it seems when he starts to uncover the mystery of the body's origin and the organization that will kill to protect its cause. - IMDb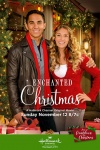 Enchanted Christmas (TV)
Year: 2017
Genre: Romance
Review: When she left Utah as a young widow, Laura Trudeau left behind her father, her love of dance -- and an old heartbreak. Now, she must return home to spearhead the renovation of a derelict hotel, which must be restored in time for a Christmas Eve benefit dance performance. But Laura is shocked to learn that her old love, Ricardo Archuleta, the boy who jilted her for a professional dance career, is the star of the dance benefit. And when his dance partner Taylor walks out on the show for an out-of-town audition, Laura has to step in for her, reawakening her love of the dance, not to mention her old feelings for Ricardo -- a potent combination that has her head spinning. - IMDb

The Curse of La Llorona
Year: 2019
Country:
USA
Genre: Horror / Mystery / Thriller
Review: Ignoring the eerie warning of a troubled mother suspected of child endangerment, a social worker and her own small kids are soon drawn into a frightening supernatural realm. Their only hope to survive La Llorona's deadly wrath may be a disillusioned priest and the mysticism he practices to keep evil at bay, on the fringes where fear and faith collide. - IMDb
Poll. 'How do you like the new view of our site?'
---
It is great!
1004
(51%)
Not bad
440
(22%)
So so
188
(10%)
I am not impressed
154
(8%)
It is terrible
186
(9%)
Who Has a Birthday Today?
---