Welcome, guest!
What's on TV in Europe?
---
Pożądanie


17:35



Segítség, felnőttem!


17:55



---
[Full TV Announce] [TV Programs]
Added Movies

No Hay Más Remedio
Year: 2014
Country:
Dominican Republic
Genre: Comedy
Review: Three elderly men decide to rob a drugstore in search of money to meet unfulfilled dreams. But things get complicated. - IMDb

Primero De Enero
Year: 2014
Country:
Dominican Republic
Genre: Drama / Family
Review: When a 12-year-old boy learns that his father's beloved piano is stolen, he and his two best friends set out on an exciting, cross-country journey through beautiful DOminican Republic to bring it back home before January 1st. - IMDb

Mamá se fue de viaje
Year: 2017
Country:
Argentina
Genre: Comedy / Family
Review: What happens when mom is out of the picture? Experience the trouble of a working dad handling four kids while their mother is off on vacation. - IMDb

Mamma o papà?
Year: 2017
Country:
Italy
Genre: Comedy
Review: A divorced couple fights for the custody of their three children: neither of them wants it. Mom wants to leave them to dad, and vice versa. - IMDb

Papa
Year: 2004
Country:
Russia
Genre: Drama
Review: Based on A. Galych's play "Matrosskaya Tishina", "Papa" tells a story of a Jewish father who dreamed of seeing his son perform on a stage in front of huge audiences, he dreamed of seeing him as the greatest violinist of his time. To achieve the goal he taught his son Dodik how to play the violin from the yearly age. When Dodik grew up he left the small town he and his father lived in to study in the Moscow Conservatory leaving his past behind. But one day he has to choose either to loose his father or everything he has achieved. - IMDb

Tresnje
Year: 2017
Country:
Croatia
Genre: Short
Review: Family tensions are slowly eroding what should have been a carefree summer for 10-year old Jakov. Shielded by the innocence of a child, Jakov does not understand the cause of the troubles, but can sense a profound injustice in the actions of the grown ups. A series of events ending in tragedy will incite his emotional revolt, but also his feelings of guilt. - IMDb

Shikaku Tantei Higurashi Tabito (mini)
Year: 2017
Country:
Japan
Genre: Mystery
Review: Picks up following the 2015 drama special of the same name. This drama follows the relationship between Tabito Higurashi and Yoko Yamakawa. Various mysteries like the tragedy that struck Tabito Higurashi 20 years ago are revealed. - IMDb

Bokudake ga inai machi
Year: 2016
Country:
Japan
Genre: Drama / Mystery / Sci-Fi / Thriller
Review: Struggling manga author Satoru Fujinuma is beset by his fear to express himself. However, he has a supernatural ability of being forced to prevent deaths and catastrophes by being sent back in time before the incident occurred, repeating time until the accident is prevented. One day, he gets involved in an accident that has him framed as a murderer. Desperate to save the victim, he sends himself back in time only to find himself as a grade-schooler one month before fellow classmate Kayo Hinazuki went missing. Satoru now embarks on a new quest: to save Kayo and solve the mystery behind her disappearance. - IMDb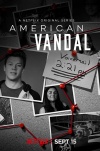 American Vandal (TV series)
Year: 2017
Country:
USA
Genre: Comedy / Mystery
Review: Clearly a riff on the streaming giant's acclaimed true crime series Making A Murderer and The Keepers, American Vandal is a half-hour true crime satire that explores the aftermath of a costly high school prank that left twenty-seven faculty cars vandalized with phallic images. Over the course of the eight-episode season, an aspiring sophomore documentarian Peter Maldanaldo investigates the controversial and potentially unjust expulsion of Dylan Maxwell, the troubled senior accused of the phallic vandalization. - IMDb

Future World
Year: 2018
Country:
USA
Genre: Sci-Fi
Review: Inside a desert oasis, a queen (Lucy Liu) lays dying as her son Prince (Jeffrey Wahlberg) travels across barren waste lands to find a near-mythical medicine to save her life. After evading violent raiders on motorbikes led by the Warlord (James Franco) and his enforcer (Cliff "Method Man" Smith), Prince meets Ash (Suki Waterhouse), the Warlord's robot sex companion-assassin who's in search of her own soul. As Prince is captured by the Druglord (Milla Jovovich), the Warlord's forces roar in - and Prince fights to save the remnants of humanity. - IMDb
Poll. 'How do you like the new view of our site?'
---
It is great!
821
(54%)
Not bad
326
(21%)
So so
142
(9%)
I am not impressed
115
(8%)
It is terrible
128
(8%)
Who Has a Birthday Today?
---