Welcome, guest!
What's on TV in Europe?
---
L'histoire de l'amour


08:10



Кейт и Лео


08:35



---
[Full TV Announce] [TV Programs]
Added Movies

72hrs the Hague
Year: 2017
Country:
Netherlands
Genre: Comedy / Drama / Mystery / Romance
Review: 'Desperaat' tells the story of Sarah who suffers from a heavy depression and her boyfriend paying no more attention to her. In 'Zeezicht', an ordinary day for Tim ends in a shocking climax after his phone is being fixed. 'Burtman' is an unappreciated superhero who gets nothing but complaints as a result of his actions. In 'Mijn Konijn', a girl, her rabbit and a photographer discover their common dreams. In 'Blind Date', Jan meets with Georgina, only soon to realize that she's a demanding chatty diva. 'Eline' is a historical figure who prefers classic dancing in her luxurious life. In 'Uh-Oh Den Haag', a young tenant mysteriously ends up in the obsessive hands of his broker. The 'Thrill Of The Search' is a lesson about the inner quest of us ordinary people. In 'Zonsondergang', two lesbian girls secretly try to hide their relationship from a conservative brother. 'Per Blad Wijzer' gives an abstract view of a half million stories in 70 chapters, without introduction. - IMDb

Chimère (TV)
Year: 2017
Country:
Netherlands
Genre: Drama

Gewoon Vrienden (TV)
Year: 2018
Country:
Netherlands
Genre: Comedy / Romance
Review: Gewoon Vrienden (Just Friends) is a romantic comedy. The tough Joris doesn't come loose from his mother who is addicted to plastic surgery. Medical student Yad has snorted too much of various drugs and returns to his strict mother. Yad works as a domestic help for the grandmother of Joris. There they meet and they like each other. They seem to be made for each other. But before they can surrender to their love, they first have to balance things with their mothers. - IMDb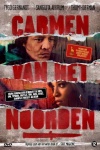 Carmen van het noorden
Year: 2009
Country:
Netherlands
Genre: Drama / Music
Review: The young and insecure detective Joz, who, on the verge of getting married, is suddenly assigned a big case about a murdered prostitute. His relationship is threatened when, as part of the investigation, he meets the alluring Carmen. Unable to resist Carmen, he puts his entire future at stake. Joz sets aside all his principles and becomes someone he doesn't want to be. - IMDb

Nachtblind
Year: 2017
Country:
Netherlands
Genre: Short / Drama

Capharnaüm
Year: 2018
Country:
Lebanon
Genre: Drama
Review: A politically-charged fable, featuring mostly non-professional actors, about a child who launches a lawsuit against his parents. - IMDb

Tomer en Elias
Year: 2016
Country:
Netherlands
Genre: Short / Drama
Review: Coming of age film about Sven, a boy who feels trapped in his own family which only consists of duos. His brother Alex in return tries to keep Sven by his side through the same methods his parents use. - IMDb

Anna
Year: 2015
Country:
Israel
Genre: Short / Drama
Review: On a hot summer day, Anna embarks on a little journey in the deserted desert town she lives in. She tries to find a man to give her a comforting touch, even for a brief moment . - IMDb
Poll. 'How do you like the new view of our site?'
---
It is great!
879
(52%)
Not bad
350
(21%)
So so
158
(9%)
I am not impressed
133
(8%)
It is terrible
156
(9%)
Who Has a Birthday Today?
---