Daredevil (TV series 2015-2018)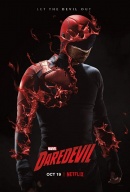 | | |
| --- | --- |
| | |
| Aka: | Marvel's Daredevil (USA: complete title) |
| Director: | Phil Abraham, Stephen Surjik, Peter Hoar, Ken Girotti, Euros Lyn, Farren Blackburn, Marc Jobst, Alex Garcia Lopez, Steven S. DeKnight, Guy Ferland, Nick Gomez, Adam Kane, Nelson McCormick, Brad Turner, Andy Goddard, Floria Sigismondi, Michael Uppendahl, Lukas Ettlin, Toa Fraser, Jennifer Getzinger, Julian Holmes, Jennifer Lynch, Sam Miller, Jet Wilkinson, Alex Zakrzewski |
| Year: | 2015 |
| Country: | USA |
| Runtime: | 54 minutes |
| Genre: | Action / Crime / Drama / Fantasy / Sci-Fi / Thriller |
Review:
As a child Matt Murdock was blinded by a chemical spill in a freak accident. Instead of limiting him it gave him superhuman senses that enabled him to see the world in a unique and powerful way. Now he uses these powers to deliver justice, not only as a lawyer in his own law firm, but also as vigilante at night, stalking the streets of Hell's Kitchen as Daredevil, the man without fear. - IMDb
Children's Cast:
| | | |
| --- | --- | --- |
| | Cole Jensen | Young Wilson Fisk (TV Episode: Shadows in the Glass) (2015) |
Poll. 'How do you like the new view of our site?'
---
It is great!
1074
(51%)
Not bad
480
(23%)
So so
201
(9%)
I am not impressed
166
(8%)
It is terrible
205
(10%)