Welcome, guest!
What's on TV in Europe?
---
Delivering Milo


05:35



Сотовый


05:40



Сотовый


06:05



---
[Full TV Announce] [TV Programs]
Added Movies

Strachy (mini)
Year: 1979
Country:
Poland
Genre: Drama

American Tale
Year: 2004
Country:
USA
Genre: Short / Drama
Review: Dealing with the unexpected arrest of his father in the middle of the night by the FBI, a young Pakistani-American boy will begin to imagine his world in new term. 10 year old Raja spends his days make-believing that he is a pirate rescuing the world. With his father being detained indefinitely he begins to wonder who the pirates really are.... - IMDb

The Knights of Prosperity (TV series)
Year: 2007
Country:
USA
Genre: Comedy / Crime
Review: A group of blue-collar guys scheme to rob a celebrity in New York City. - IMDb

Santa Mesa
Year: 2008
Country:
Philippines
USA
Genre: Drama
Review: Following his mother's death, Hector arrives in Manila to live with his grandmother. Unable to speak Tagalog, Hector falls in with a street gang before a photographer takes him under his wing. Haunted by memories of his mother, Hector photographs an anonymous woman when suddenly, these seemingly disconnected lives collide. - IMDb

L'infini
Year: 2014
Country:
Belgium
Genre: Short / Drama
Review: The story is about a boy who is bouncing back and forth between different stages of life, but it is also a story between man and child. - IMDb

Duet po pravu (TV Series)
Year: 2018
Country:
Russia
Genre: Crime / Drama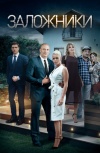 Zalozhniki
Year: 2019
Country:
Russia
Genre: Crime / Drama / Romance

Nebesnyy sud
Year: 2011
Country:
Russia
Genre: Drama
Review: Lawyers Andrew and Benjamin are friends who share a lot, but their work puts them on opposite sides. Their trials do not occur in this life but in the afterlife. They are members of the Sky Court deciding where a human soul should go after death- Heaven or Hell. Unexpectedly in one case personal interests of Andrew interfere: the man who made the proposal to his widow is on trial. - IMDb
Who Has a Birthday Today?
---