Welcome, guest!
Added Movies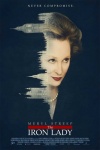 The Iron Lady
Year: 2011
Country:
UK
France
Genre: Biography / Drama
Review: Elderly and a virtual prisoner in her own home due to her concerned staff and daughter Carol, Margaret Thatcher, Britain's first woman prime minister, looks back on her life as she clears out her late husband Denis's clothes for the Oxfam shop. Denis is seen as being her rock as she first enters parliament and then runs for the leadership of the Conservative Party, culminating in her eventual premiership. Now his ghost joins her to comment on her successes and failures, sometimes to her annoyance, generally to her comfort until ultimately, as the clothes are sent to the charity shop, Denis departs from Margaret's life forever. - IMDb

Red Lights
Year: 2012
Country:
Spain
Canada
Genre: Drama / Fantasy / Horror / Mystery / Thriller
Review: The skeptical psychologist Dr. Margaret Matheson and her assistant, physicist Tom Buckley, are specialists in disclosing fraudulent paranormal phenomena. When the famous psychic Simon Silver reappears to his public after many years of absence, Tom becomes singularly obsessed in determining whether Silver is a fraud or not. - IMDb

Bel Ami
Year: 2012
Country:
UK
Italy
Genre: Crime / Drama / History / Romance
Review: Georges Duroy is a penniless soldier returning from war. He travels to Paris in a search for ways to improve his social and financial status. He uses his wit and powers of seduction to charm wealthy women. - IMDb

Cinderella
Year: 2015
Country:
USA
UK
Genre: Drama / Family / Fantasy / Romance
Review: A girl named Ella (Cinderella) has the purest heart living in a cruel world filled with evil stepsisters and an evil stepmother out to ruin Ella's life. Ella becomes one with her pure heart when she meets the Prince and dances her way to a better life with glass shoes, and a little help from her fairy godmother, of course. - IMDb

National Theatre Live: The Hard Problem
Year: 2015
Country:
UK
Genre: Drama
Review: Acclaimed playwright Tom Stoppard (Shakespeare in Love, Arcadia, Rosencrantz and Guildenstern are Dead) returns to the National Theatre with his highly-anticipated new play The Hard Problem, directed by Nicholas Hytner (Othello, Hamlet, One Man, Two Guvnors). Hilary, a young psychology researcher at a brainscience institute, is nursing a private sorrow and a troubling question at work, where psychology and biology meet. If there is nothing but matter, what is consciousness? This is 'the hard problem' which puts Hilary at odds with her colleagues who include her first mentor Spike, her boss Leo and the billionaire founder of the institute, Jerry. Is the day coming when the computer and the fMRI scanner will answer all the questions psychology can ask? Meanwhile Hilary needs a miracle, and she is prepared to pray for one. - IMDb

The Alchemist's Letter
Year: 2015
Country:
USA
UK
Genre: Animation / Short / Family / Fantasy / Mystery
Review: A late alchemist exposes his estranged son to the truth surrounding his tumultuous life and the dark magic used to power a gold making machine. - IMDb

The Entertainer
Year: 2017
Country:
UK
Genre: Short
Review: A cheap party entertainer spirals out of control at a young girl's Bat Mitzvah. - IMDb

Innocent (mini)
Year: 2018
Country:
UK
Genre: Crime / Drama / Mystery
Review: After seven years in a high security prison, David Collins' conviction for the murder of his wife, Tara, is overturned due to a technicality, or as his lawyer puts it, an appalling miscarriage of justice. Able to start his life again and begin to repair relationships with his family and friends, David hopes to finally be allowed to mourn his wife's death. As a new investigation is launched, headed by DI Cathy Hudson, dark secrets of abuse, affairs and money troubles rise to the surface. From jealous sisters to disgruntled lovers, these secrets rip fragile relationships apart at the seams. But one question remains: is David Collins truly innocent? - IMDb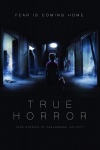 True Horror (mini)
Year: 2018
Country:
UK
Genre: Documentary / Horror
Review: Drawing on the testimonies from people at the centre of each story and other witnesses, this docudrama presents true encounters with the paranormal. - IMDb
Who Has a Birthday Today?
---