Welcome, guest!
What's on TV in Europe?
---
Inferno


11:50



---
[Full TV Announce] [TV Programs]
Added Movies

Can Dostlar
Year: 2019
Country:
Turkey
Genre: Comedy / Family
Review: Children who play constantly with their phones now seem to have forgotten to play on the street. At the insistence of new friends, children decide to play in the park again to end this course. But there is a problem: Bad Kazim sitting in the house next to the park. What is the secret of the evil Kazim who scares everyone who comes to the park? Will the children be able to take the park back from Kazim? - IMDb

Yeoseot gae ui siseon
Year: 2003
Country:
South Korea
Genre: Drama
Review: Several of Korea's most acclaimed filmmakers, including Park Chan-wook (OLDBOY), explore the nature of discrimination in this provocative anthology. - IMDb

Barefoot to Goa
Year: 2015
Country:
India
Genre: Adventure / Drama / Family
Review: A parable on the moribund human bonds in a fast-paced world, which is a warning that poignantly highlights the futility of life and death. - IMDb

Shin-san Tankoumachi no serenâde
Year: 2010
Country:
Japan
Genre: Drama
Review: The emotional story evolves in the backdrop of a small mining town from the 1960s to the 1970s. - IMDb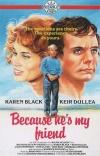 Because He's My Friend (TV)
Year: 1978
Country:
Australia
Genre: Drama
Review: An American military man moves his family to Australia to undergo training in submarine warfare, providing new challenges for his wife and their developmentally disabled son. - IMDb

RemI
Year: 2016
Country:
France
Genre: Short / Comedy

Trolls: The Beat Goes On! (TV series)
Year: 2018
Country:
USA
Genre: Animation / Short / Adventure / Comedy / Family / Fantasy / Musical
Review: The party keeps on going for Poppy, Branch and the others from DreamWorks Animation's hit Тролли (2016). - IMDb

Rated
Year: 2016
Country:
USA
Genre: Short / Comedy / Drama
Review: What's so important about a 5 star rating? Maggie's about to find out. Maggie, a wife and mother of two, must find the courage to own up to her behavior when she wakes up to find every adult has received a YELP-like star rating floating over their head. While most every adult has a shining 4 and 5 stars, Maggie's got just 2.5! - IMDb

Togetherness (TV series 2015-2016)
Year: 2015
Country:
USA
Genre: Comedy / Drama / Romance
Review: Follows two couples living under the same roof who struggle to keep their relationships alive while pursuing their individual dreams. - IMDb
Who Has a Birthday Today?
---